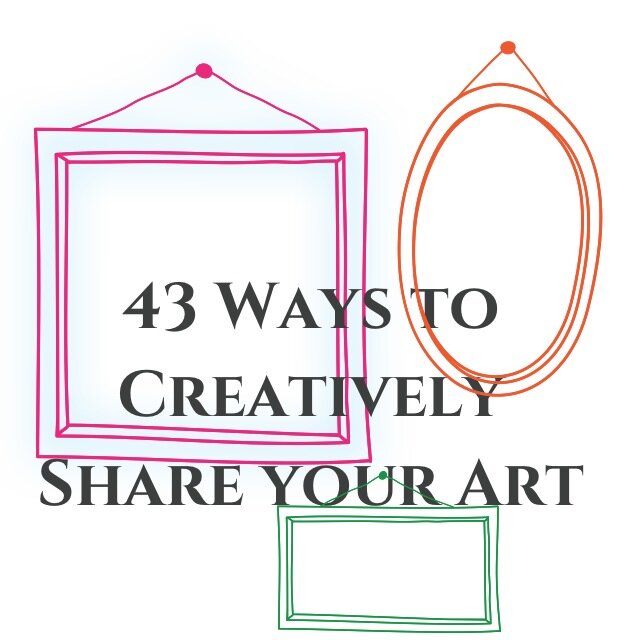 The world is louder, noisier, more congested- both offline and on. People are sensitive to traditional advertising and typically push it away. As creatives we have a distinct advantage to do something different than traditional advertising. Be different. Make things pretty.
In a previous post, I referred to marketing our artwork as "sharing." For me, someone who has a hard time with cold calling, closing, etc. it helps me to change up the vernacular of what I do. It seems less intimidating and more normal.
Last week we talked about giving marketing a new name: sharing. Here are some of the ways I'm working on sharing my art. I hope you find a way that you can use or spurs your thought process to think of your own creative way to share your art!
1. Do a link party with other artists and bloggers. This can be a bit time intensive but it can be a lot of fun. Do a feature of your favorite artists with links to their work on your blog. Email them, letting them know what you like about their art and that you are featuring them on your website. This is a fun way to build community and friendships in the online world and connect to more people than on your own bit of virtual real estate.
2. Start a blog. Post pictures of projects or artists. If you don't feel like you have enough, ask others to join in. I've started asking friends to share stuff they're making (it's coming and I'm sooooo excited- I've got some very creative friends!)
3. Explore podcasting- be a guest. Many podcasters are entrepreneurs in the fields of food, art, crafts (think specific: quilting, photography, )who are looking for you!
4. Figure out your creative zing. What makes you different and gives others a reason to connect with you? How does what you do make people feel? Don't over look this- spend some time exploring this now and really hone it in. How can you incorporate this theme in to your work. If you are really stuck, consider taking a course. Monica Lee from Smart Creative Women is offering a Smart Creative Style online course that is all about defining who you are and separating yourself from other people.
5. Give marketing a new name: call it sharing (that is what marketing is anyways). Realize there are tons of options and opportunities to share your work. Choose courage and talk to someone about your art. Is there a local artist who could share their story with you?
6. Approach a coffee shop about featuring your art on their walls. Or a pet store. Or a vintage boutique. What local places could benefit from your art on their walls? I know a guy who paints classic cars. His paintings would look great in a local restaurant or a car place (please forgive me for my lack of car vernacular; it's not my forte!)
7. Create a Zazzle store. Zazzle allows you to put your art on their products. When they sell, you receive a piece of the profit (double benefit!) Schedule time to market your art just as if you were scheduling time for creating your art. Marketing is just as important as creating the artwork. For a creative to create income, there must be both product creation and product marketing.
8. Marketing may never be one your favorite things. That's o.k. One day you will be able to hire out for it. Many of the most successful businesses have the duo approach: the creative and the business-marketer. For the time being, make it a goal to spend a certain number of hours on marketing activities. One hour, one day every week.
9. Evaluate what works and what doesn't. If your Facebook page is a pain to update and there isn't any traffic coming to your site from it, feel free to ditch it. Time is precious. Resources are limited.
10. Google Analytics. Make sure it is embedded on your website. Because what isn't measured doesn't count. Plus, Google Analytics shows you cool stuff- like how people are finding you, if people come from Pinterest or Facebook (and how many), from Germany or Australia (or both) and what posts are the most read. Very important stuff.
11. Teach a class. It could be an online class (like Udemy) or a local class.
12.Take your most popular posts and create an eBook or teaching outline for a webinar.
13. Start a podcast yourself. For information how check out this tutorial or this incredible website about podcasting
14. Create a you tube channel. Intersperse video blogs with written blog posts. It doesn't have to be exactly what you do. It can be an offshoot of what you do. For example, a painter can teach others how to find frames for their paintings, how to hang paintings, how to group paintings in a home, decorating with paintings, etc.
15. Guest post on other people's blogs. (want to guest post a DIY project or another idea on Launch Your Creative Life? Talk to me here ).
16. Go to a art and crafts fair. Have a list for people to sign up for your email.
17. Do a giveaway. An artist I know recently did a giveaway at an art show. He increased his Facebook likes by more than 60 and now has access to all of those people through an email newsletter. A "list" can change the future of your creative business. It's never too early to start collecting the names and email addresses of people who want to know more about your creative business.
18. Create a presence on social media. Don't do it all- just focus on one or two social media sites you like.
19. Mail postcards (Grandma's strategy still works).
20. Make fliers- very pretty ones- using an affordable service like VistPrint or Moo.
21. Check out Lisa Jacob's Marketing Creativity website. (Yes, a whole site) She has successfully (interpretation= thousands of sales) made a living selling via Etsy. She shares her journey and lots of help on the site.
22. Sign up for HARO. This interesting site features lots of reporters who are looking for interviews for their stories. You never know when a paper featuring you and your creative biz, art, or opinions could move you in front of influencers and buyers. Signing up is free.
23. Write an editorial for your local newspaper.
24. Read more books.
25. Send out a weekly or monthly email. Share more of yourself in the newsletter; Include news not on your website or blog. Or, create a special art series like Deby Dearman did and sold each painting via a "12 Days of Christmas Art" sale. She included a personal story about the painting with each email; it was a lovely combination of work and visual art. Selling your art via email is becoming more and more popular. Let your audience know when you have a new piece of art work up. Give gifts to those who have signed up for the list, helping to create a VIP audience who grows with you as an artist.
26. Host your own art show aka the Impressionist artist group who rebelled against the art regime who ruled Paris in the 1860's (the Salon) and created not only a movement, but an enduring legacy and influence for themselves. (Check out Malcolm Gladwell's latest book, David & Goliaths for a fascinating behind-the-scenes-look into their success).
27. Start a blog. Write about your art, what inspires you. Share pictures and sketches and the funny stories, the heartwarming stories. People want to connect with the artist, not just buy the art.
28. Become active on Instagram. Follow other artists and leave genuine complements and insightful comments on influencers feeds; interact with people. The world begins to change when we change. Often, as creatives, we are too much in our own heads. We need to get out and connect with other people. (you can follow me at melissajoy31)
29. Share art on Instagram. It's one thing to share photos of your latest batch of cookies (I'm so guilty of this!) Share your art. Be brave and be yourself.
30. Have fun. "People buy your joy," is a saying artist and artist agent Lila Rogers is known for saying. It's true. People are attracted to joy-filled, lovely people. Having fun really is a way to share your art with others. (After all, who wants to buy from a grumpy artist?)
31. Get involved in local boutiques and gift shops in your area. Would your art fit with the vintage store in the downtown district or the modern eclectic restaurant?
32. Put your artwork on over-sized bags, in glass pendants in necklaces. Become your own walking share-er of your art. When people complement you say, "thank you," if they ask you where you got it- tell them you are the artist and where they can purchase.
33. Get involved in a local artist group. Share your art and listen to others. If you are scared of sharing, being part of a nurturing group may ease the anxiety. Give yourself time. Check out Meet Up for local art groups. If you can't find one, start one.
34. Check out Craftori for a creative outlet to share your work. Find out more about their guidelines and getting started here.
35. Consider online teaching. Platforms like Udemy allow instructors with all sorts of skills to create online courses. It can be a free or a paid course. Teaching is a double whammy. There is a joy in sharing your knowledge with others. Plus you are sharing (marketing) your art. And you may even sell some to your students (I guess this is a triple whammy!)
36. Pinterest. Pinterest has changed but it is still in its hay day. The traffic that comes from Pinterest is not as valuable but you never know who will find you. If nothing else, use Pinterest to organize your art and direct people to your "online portfolio" if in a pinch (and it can be pulled up on any phone).
37. Give it away. We will create more art than we can carry. Even if we aren't thrilled with it, there are others who will enjoy and appreciate it. Give your "practice pieces" away to people who ask for them. Ask for feedback about what they liked.
38. Get involved on 48days.net or other community/ning sites. Participate. Be brave and share. Look to show interest in others.
39. Write a series of blog posts. Convert those blog posts in to a book. Hire a formatter off Fiverr to make it look professional. Hire a cover designer off fiverr.com (unless you are an experienced designer for book covers). give it away or sell it for a discount on Amazon, Kobo, and Nook.
40. Write a booklet on an idea that others in your audience may enjoy. Perhaps it is a series of essays behind an art series. Perhaps a food photographer can create a book of how-to tips and photographer "tricks" for food bloggers or photographing children. A fiction writer can give away a few chapters of a book they are writing. What might your audience learn from, be entertained by, or really enjoy?
41. Society6 is an online platform that I'm WAY excited about. I heard about it through Monica Lee at <http://www.smartcreativewomen.com>Smart Creative Women. You can take your art and put it on iPhone cases, prints, tshirts, wall clocks- but you don't have to buy the merchandise yourself! (thank goodness I don't have to have 500 iPhone cases under the bed or in the closet). Check them out.
42. Never give up. Persistence is the name of the game when it comes to building a creative business (or any business for that matter). Hang in there doing the right things and you will see results.
43. Check out the website Work Your Art for technical advice on social media, blogging and marketing art work.
I created this art for people who are involved in the visual arts: bloggers, visual artists, photographers, food stylists, food bloggers, etc. But anyone can benefit from going through this list, choosing three things to do and starting.
The key is to start.
If something doesn't work out, you will be stronger and braver and bolder as a result. That is the difference maker in the beginning: not the results that come but the internal shift that starts happening on the inside: the way we think, feel, and look at our art, the world, and the future.
And as many motivational teachers have said, "when you change, the world changes."
Go out and share your art this week.
This list is hardly conclusive. What creative ways have you shared your art? What were the results? How did you feel?