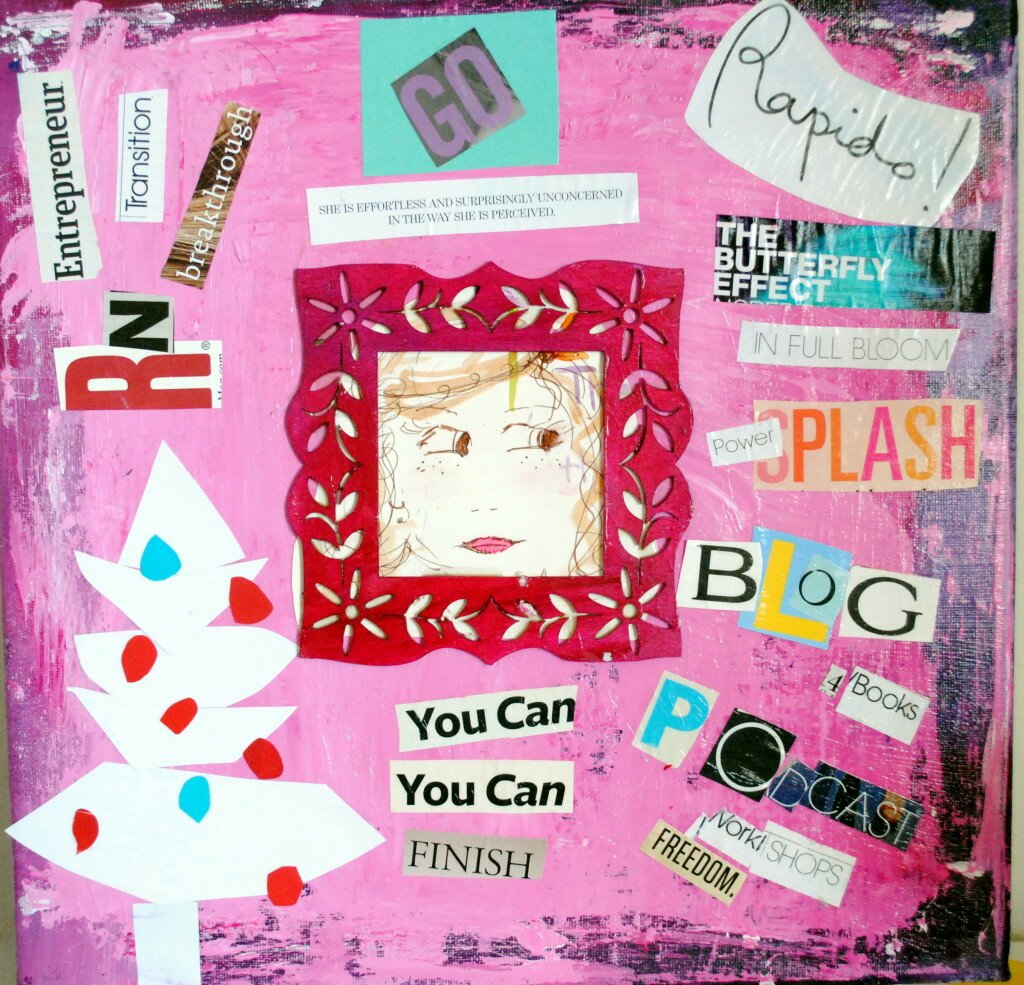 acHere is one of my new favorite projects: creating vision boards with mixed media collages!
Collages like this are not hard (woohoo!); they can be time intensive but you can do it in steps: I spent a short amount of time- maybe 3o minutes- for a few nights to complete it.
Here is the supply list:
-Two colors of acrylic paint plus white.
-A blank canvas (a small one is fine- I used a square 12x12 canvas).
-words and pictures cut out from magazines.
-cards, bookmarks, notes, pieces of your sketches or watercolor that you don't quite know what to do with.
-Mod Podge medium.
-brushes- for painting and Mod Podge medium.
Like many of you, I'm super visual. I want things in front of me. And, if I can make it pretty, I'm SO going to do that.
I heard about vision boards some time ago but my curiosity was reignited listening to a podcast on The Leadership Dojo. The guest, Carrie Kish, creates vision boards for the year and she looks at them all year long. It reinforces what she wants to do. From the podcast episode, it sounds like she takes pictures and words and puts them on some sort of surface- I don't know if she goes to the length we are going to do today, but listening to that episode got my brain creatively spinning.
From this idea, I went a little crazy. I grabbed my paint. I grabbed one of my favorite little watercolor girl faces that didn't have a home, a frame I had bought at Michaels' craft store- it was also homeless and needed a place to go.
I started by painting my base color. I let it dry.
I came back and put another layer on the canvas. I squirt the paint directly on the canvas. I scrape it around with a palette knife or a brush- whatever you have. I purposely don't cover all the bottom- I want to create a texture by letting the under color come through. Acrylic paint is thick; it takes a few minutes to work it in. Don't put on too much paint. Start with a small amount and work it around, adding more as you go.
Adding paint on canvas, especially as freestyle as this, is very therapeutic. Turn on some music and let your brain take a break from thinking about stuff.
Finally, while the layer is wet, add some white in. This will help soft the paint, create a "pop" and add more vibrancy to the layers.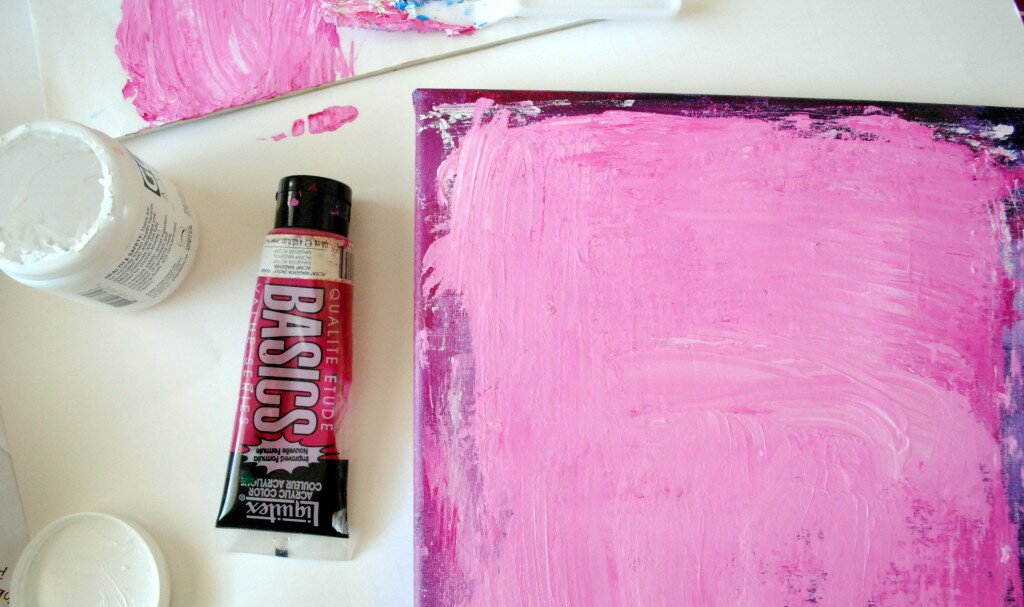 Let it completely dry. If you haven't cut out your words or found pictures, this is a good time to finish that. By the way, I had a few things I wanted to put on my vision board but I was open to other things. For example, some of the phrases on the right side are inspirations for products or blog posts.
I cut out letters and words for things I want to accomplish.
Then, I start arranging them on the canvas. I will move things around until they are visually pleasing.
When I'm ready to start putting down the found items and the pictures, I apply a layer of Mod Podge to the back of the piece of the word and lay it down. Then, I apply a layer on the front so it smooths out.
Know Your Goal
For me, I wanted to remind myself of the yearly goals I would like to accomplish or work towards.
I tend to be prone to discouragement (aren't we all, right?) and I ditch products that I get stuck in, so I put a bit of motivational truth in there at the bottom.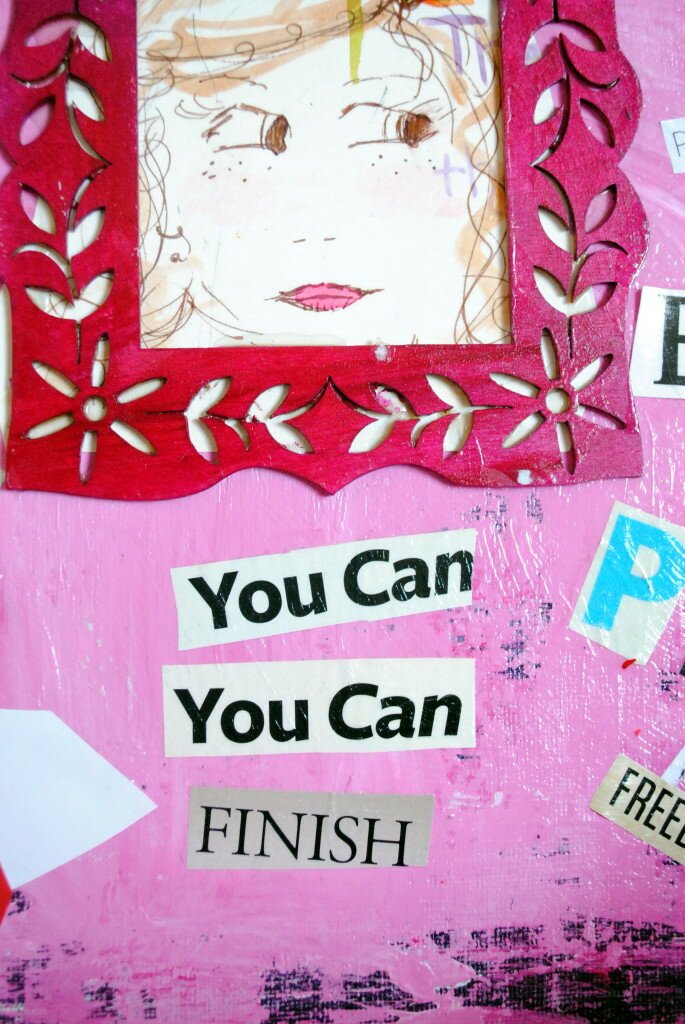 I'm working on a Christmas project (because if I don't do it now, it won't get done in the fall!) A symbolic Christmas tree went into the corner. I'm working on a website, books and coaching for nurses who are/have experienced burnout, need some encouragement to get unstuck and want help working out their career, so that's in the right handed corner.
Things that might be on your dream board this year:
a vacation you want to take
holiday dreams:
home projects
road trip to see fall foliage
completion of a book or project
finishing eCourse or semester
visiting family who live farther away
finishing the Shutterfly books for Christmas
pictures of your family and time spent together (cover pictures with laminate before you put hodge podge on them!)
The goal of vision boards is to set the big things in front of you: the projects and pursuits that hold the most meaning. It's a visually inspiring way to continue to dream and work towards creating a lovely life.
And...You can't ruin it! Seriously, it's layers of paint and your dreams and goals in pictures and beautiful fonts- it can't go wrong!
I found the experience to be very fun and joy filled. I had a blast. I had made another one the week before as a project; I used a card, a fun charm that was going to get lost, and an intro to my favorite devotionals- it was falling apart.
I hope this inspires you to create a lovely vision board for yourself. If you create one, please leave a comment on facebook or let us know here!
Do something creative this week!